4/26/12 Raw: Three Up, Three Down
Raw was a pretty poor show this week. It's only appropriate that I start with the bad. And there were a lot of bad parts to choose from.
THREE DOWN
Brock Lesnar and John Cena's contract signing
I imagine Vince and the rest of the WWE brass couldn't have been too happy with what they saw to close Monday's three-hour raw. I'm sure they have enough business sense to know when to be patient, and surely this is one of those instances. But they must be at least somewhat troubled by Lesnar's performance on the mic. It was uninspired and boring, making for a painfully awkward viewing experience. As well all know, Lesnar was never great on the microphone during his first WWE run. Still, it's fair to expect Brock to put forth material that is more engaging than whatever we saw on Monday.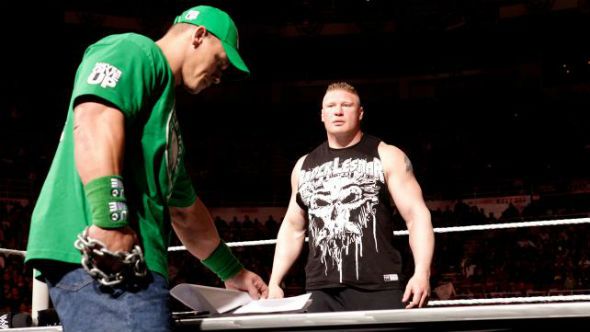 If something doesn't change in a hurry, Brock's second run will be easily dubbed a bust. Yes, it hasn't even been a month, but if WWE is actually paying this guy $5 million for a 1-year contract, the company is not getting anywhere near its money's worth thus far.
CM Punk's sobriety test
This was asinine. I am opposed to what seems to be popular opinion in that I've generally enjoyed this feud and the deeply personal route they've taken. But this bordered on being an unintentional comedy segment. The whole scene was too drawn out and took far too long. Some of Punk's mannerisms blew his "cover" that he was faking long before he revealed he was completely sober and attacked Jericho. To make matters worse, when Punk was actually supposed to recite the backwards alphabet correctly, he botched it by saying "S" before "T." Luckily, no one seemed to notice.
Punk seems to be gradually losing quite a bit of steam during this title reign and Monday's segment didn't help. As much as I love Punk, I'll be shocked to see him have the belt by the end of July. With someone like Dolph Ziggler also losing momentum, the only possible option for him to drop the belt to is maybe Lord Tensai. The issues created by an overpopulated midcard and a scare main event roster are becoming painfully apparent in recent months. Running once-believable main-eventers like Ziggler and the Miz around in circles is only worsening the effect.
Primo & Epico losing…again
Why? Unless Primo and Epico are about to reel off an epic winning streak (you know, against the huge amount of tag teams in the WWE), their continued lack of success as Tag Team Champions baffles me.
First, from a simple logic standpoint, it doesn't make sense. If Primo and Epico are Tag Team Champions, shouldn't they be good enough to beat most teams, let alone the thrown-together teams that they have faced in recent weeks?
Second, how does scheduling your tag champion to lose each week help promote the prestige of the titles or the division itself? This could be something that would maybe work if Primo and Epico had more credibility, but they don't.
Call it a wild idea, but I'd love to see a tag team turmoil match at a pay-per-view in the near future. Maybe even use a "lethal lottery" format and throw some teams together made up of random superstars since there are very few legitimate squads right now. It could provide something to do for some of the many midcarders that are in limbo, beyond currently tagging with new partners every single week.
I'll concede one point: Again, at least there's Rosa.
THREE UP
Edge's appearance
Hearing Edge's music, especially so close to the beginning of the show, had me surprised. It's both awesome and depressing to see how passionate this guy still is about the business — and the passion oozes out of every one of his mannerisms and words. It's awesome because it makes everything he's involved in better, as was the case with this segment. It's depressing because you feel like there's so much more he could have accomplished (and selfishly, given us) if he hadn't run into such misfortune with injuries.
Edge's immense passion made him pretty much the perfect person to deliver the message to Cena that he "has to beat" Lesnar at Extreme Rules. This whole storyline seems to be bordering on work-shoot: As far as we know, Lesnar was never a guy who ate, breathed, and slept the business of wrestling. It was the reason he decided to leave when he was pretty much on top of the business. Meanwhile, you have Cena, a guy who is 100% WWE all the time (this comparison, by the way, is the reason why I am baffled by so many people wanting to see Lesnar "destroy" Cena.)
Thus, Cena represents all the superstars — past and present — who have dedicated themselves to the industry, while Lesnar represents the money-driven villain. Edge's appearance and speech, for me, adds to the stakes for Sunday's match between Cena and Lesnar.
Chris Jericho v. Kofi Kingston
Bravo, Kofi Kingston. The WWE hasn't involved you in a worthwhile storyline in…well hell, I can't even remember. But still, you continue to come to work and do your job like a professional. Don't get me wrong — I believe in doing your job generally regardless of the circumstances. But Kofi is only getting better, and yet he's seemingly been relegated to a jobber to main-event heels. It could be worse, but Kofi could also be doing so much more. One can only imagine how much potential Kofi would have if he was a capable talker.
This match was excellent. The last three or four minutes were wrestled at a breakneck pace, and the top rope dropkick into the codebreaker was an awesome finish. Great work by both men.
Beth Phoenix's injury
I'll be 100 percent honest: I thought Beth's injury was legitimate. I originally planned to include Beth's injury in the 'Three Down' portion of this segment because it seemed like such a devastating blow to an already badly weakened Divas division. It was only until I double-checked reports confirming that the injury was a part of the storyline that I made the change.
So what does this mean? Props to Beth Phoenix for an amazing job of selling the injury. According to said reports, I wasn't even the only one fooled — apparently some workers backstage thought the injury was real as well. Beth is a true professional and this is only the latest example of that professionalism. It's a shame the WWE doesn't seem to realize what a gem of a worker it has in Beth.
If Beth dropping the belt to Nikki Bella only serves as a means to put the belt on Kharma for her return, then I'm totally fine with that. An eventual Beth-Kharma feud is one I'd be more interested in than most of the current men's feuds.
Thankfully, this development also seems to mark the beginning of a cure for an ailment I've been complaining about for the sat couple weeks: the lack of character and storyline development in the divas division.
Posted on April 26, 2012, in Raw review, Three Up & Three Down and tagged Beth Phoenix, Brock Lesnar, Chris Jericho, CM Punk, Edge, John Cena, Kofi Kingston, Rosa Mendes. Bookmark the permalink. 2 Comments.